Christmas Birthday Cards
Here are the top five rules for giving a card to a Christmas baby:
1. Don't just write Happy Birthday on a Christmas card. That's way tacky. Would you add that on to a get well card?
2. Every year some cardmaker comes out with a Christmas-birthday card. Some Christmas babies don't like to get those, while others do. If you do give one, be advised that since that is probably the only Christmas-Birthday card in release this year, the recipient will likely get more than one of it.
3. Mail the birthday card separate from any Christmas greeting you might have. Even if you mail them on the same day. Stamps are cheap. Suck it up.
4. If you've combined Christmas and birthday gifts to make one big gift, please include a birthday card as well.
5. Don't be late.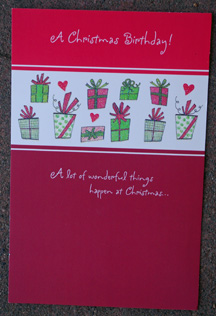 My great-aunt sent me this card in 2007. The front reads: "A Christmas Birthday! A lot of wonderful things happen at Christmas…" (and then inside the card:) "Happy Birthday to one of them (And Merry Christmas, too!)" The card is by American Greetings.